GROW - Inspired by EAT
Åpningstider Mandag-lørdag 17.00-23.00 Søndager stengt.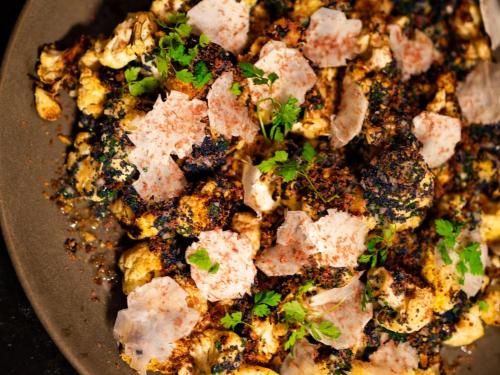 December 13, we opened the doors to our new innovative restaurant, located in the basement of ps: hotel, GROW - Inspired by EAT.
The collaboration between ps: hotel, EAT foundation and Nordic Choice hotels is not accidental. Together, we all have the preconditions for creating social innovation, where inclusion, sustainable solutions, and healthy taste experiences go hand in hand.
This combined with a very unique atmosphere makes us confident that our guests will enjoy themselves.
At GROW, plant-based food is the hero, and we want to show you how to use all sorts of vegetables, put together whole meals, and create absolutely amazing flavours.
Meat and fish are also on the menu for those who want it, in creative variations.
We want to use all the raw material
In addition, our goal is to reduce food waste, which means that the portions may be smaller than you are used to - but so are the prices. So if you are extra hungry, you can actually treat yourself to two or maybe three dishes.
In the kitchen, we have chef Maren Bjerkeli, who has grown in the kitchen at a small farm in the Isfjord, not far from Åndalsnes. Maren is an avid hunter, fisherman, and realized early on that it was her cook.
With us, she has been given the opportunity to develop completely new dishes, where plant-based ingredients are the hero of the meal.
With us, everyone is equally important. Here many people meet for their first meeting with the working life for a while. Here it is about being seen, mastered, and feedback. So your visit is important to us in a double sense - you are contributing to the environment and you are helping someone have an extra nice day at work. This meeting is what creates the unique atmosphere.
Welcome to GROW - Inspired by EAT.
Lunch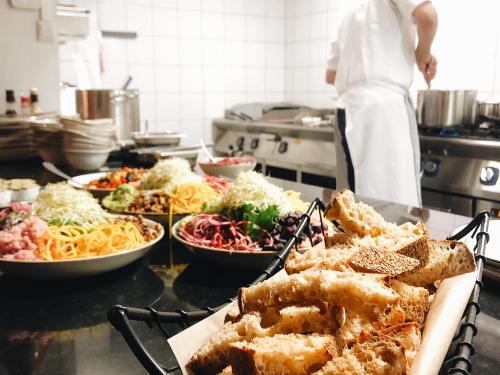 Every weekday between 11.30 and 13.30 we have our lunch buffet open. Here we serve salads, cold cuts, bread and today's main course. and every weekday at 11.30 there are 80 hungry people and almost scratch on our door and want to have lunch. Since we are lucky enough to be located in the nicest part of the whole of Oslo - where we have neighbors on all sides who want to join and contribute - they use our restaurant as their canteen for lunch. We try to stay true to our concept of serving home-made Norwegian quality food for all our meals. In addition to our regular lunches, we have daily conference guests who get their lunch with us. Here they get healthy and good Norwegian home-cooked food which gives them energy to continue their meeting business.
Groups & Events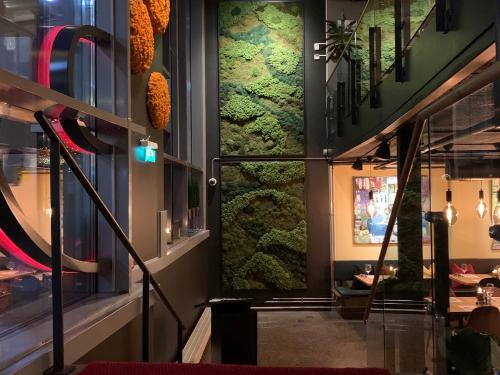 In our restaurant, 60 people can sit and eat at the same time. Here you have the opportunity to post your wedding party, birthday, graduation, or just a friend's friends party. Combined with a nice outdoor restaurant where we create a good atmosphere, this is sure to be a nice party! With a request to our
restaurant,
we are happy to send you suggestions on the menu and wine package.